High spirits at St James' Park Olympic football despite queues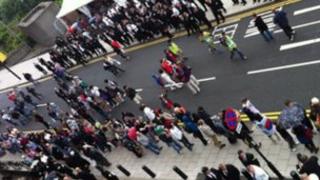 Football fans - and those who just want to be part of the Games - flocked to Newcastle's St James' Park for the city's first Olympic match, and found themselves in a huge queue.
Those who came early for tickets - intending to go home, have lunch, get dressed up and return - stayed.
They shared umbrellas, sang a bit, made friends and rang home to get families to bring sandwiches.
David Forster, from Newcastle but now living in Vancouver, had sore feet and nothing to eat or drink.
"I didn't expect to have to wait for this long," he said, but added the time had been well spent.
"The guy I've ended up stood next to buys paint from my company so we're networking whilst we wait."
Hours waiting
Those within sight of the ticket office, in a queue of about a thousand, had been waiting for over two hours.
Those at the end were facing a three hour wait or longer, and the prospect of not getting tickets before the match started.
Many grumbled that the organisers should have had separate queues for buying tickets and picking up those already purchased.
Others, who had bought tickets online, were annoyed to be told to collect them from a box office in London - or St James' Park on the day of the match - and could not understand why posting was not an option.
Newcastle's United's home ground is hosting nine matches, beginning with Mexico v South Korea and Gabon v Switzerland.
Andrea and David Hernandez had bought their tickets before leaving Mexico City, but could not resist arriving early.
"We've come up from London today where we went to watch the football also," Mrs Hernandez said. "It's great to get to see it in another country and take in the different atmospheres."
'Watch on TV'
Luis Freyre, from Mexico but studying in Newcastle, said he had "waited a long time for this".
"To see Mexico play here is brilliant," he said. "I queued for over an hour, but it was worth it."
In other cases, it was children leading the march to St James' Park.
Paul Hawkins, 52, was embroiled in sensitive negotiations with his eight-year-old son Alex.
They had come from Boldon on spec with Mr Hawkins admitting that, if they did not get tickets, "I'll end up getting him something".
"He has to take me to the England match if we don't get in this," suggested his son, only to be told, no, he would be watching that on TV.
The matches will be televised on the BBC's Olympic channels and BBC Newcastle will have full live commentary of Mexico v South Korea on its 1458 AM frequency and updates on Gabon v Switzerland on Total Sport.