Durham Lumiere light festival given go ahead for 2013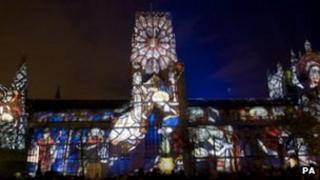 A light festival in Durham that attracted about 150,000 people in 2011 has been given the go ahead for 2013.
Durham's four-day light festival, Lumiere, turned buildings and bridges in Durham into illuminated works of art in November 2011.
Durham County Council said the event pumped £4.3m into the local economy.
Councillors were told there was a "compelling case" for staging it despite complaints about crowd control at the 2011 event.
Neil Foster from Durham County Council said: "We learned lessons from the first night and we transferred them over to the rest of the weekend.
"We'd like to spread it around the city and create more space for people to move around in.
"We'll explore things such as ticketing and we'll look at a number of issues."