Cold weather kills three Kielder osprey chicks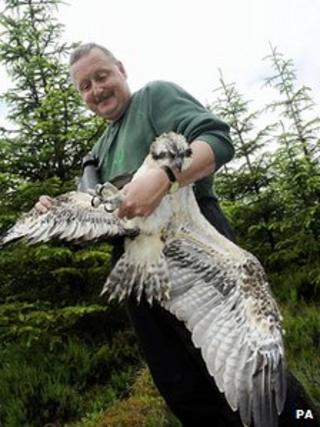 Britain's wash-out summer has been blamed for the deaths of three out of six osprey chicks in Northumberland.
The Forestry Commission was delighted by the record six chicks that hatched in Kielder Forest earlier this year.
But it said persistent bad weather and low temperatures meant only half survived, while other rare birds including goshawks have also struggled.
Rangers have now ringed the remaining three osprey chicks so they can be identified and monitored.
Forestry Commission wildlife ranger Philip Spottiswood said: "We have maintained our record of producing three osprey chicks each year since 2009, when the birds began to breed again in Northumberland for the first time in 200 years.
"Despite the conditions, the chicks ringed this year are very healthy and we expect them all to fledge in the next few weeks.
"Given the dreadful weather that is a tremendous result."
One of the surviving chicks has been named Olympia, while the other two, which hatched just before the Diamond Jubilee weekend, have been dubbed Jubilee Jack and Queenie.
Duncan Hutt, from Northumberland Wildlife Trust, said: "The species was extinct in England until recently, but Kielder, together with the Lake District, has been naturally re-colonised.
"A big factor has been the erection of special nesting platforms near Northumbrian Water's Kielder Water, which offers the birds a perfect hunting ground for trout."