Lindisfarne singer Alan Hull plaque unveiled in Newcastle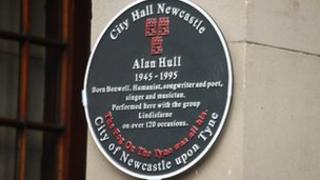 A memorial plaque has been unveiled in Newcastle in honour of the lead singer of 1970s folk band Lindisfarne.
The plaque, dedicated to Alan Hull, was unveiled at Newcastle City Hall in front of his family, friends and fans.
Speaking about his former bandmate, Ray Jackson, said: "He'd be honoured, he was a quintessential English songwriter and a great wordsmith."
Jackson played a street concert for about 100 fans who went to celebrate Hull's life. He died in 1995 aged 50.
Born in Benwell in Newcastle, Hull was known for his lyrics which were often inspired by his experiences of the North East.
The band holds the record for the most gigs at Newcastle City Hall - 135 performances over three decades, including many Christmas shows.
Former manager of the band Barry McKay had called for a Newcastle memorial to Hull in November.
Lindisfarne had several top 10 hits, including Meet Me on the Corner, Lady Eleanor and Run for Home.
Their 1971 album Fog on the Tyne reached number 1 in the UK charts.
A reworked version of the title track was a number 2 hit in the singles charts in 1990 for another celebrated Geordie, Paul "Gazza" Gascoigne.