Kielder Forest ospreys: Mystery ringed male appears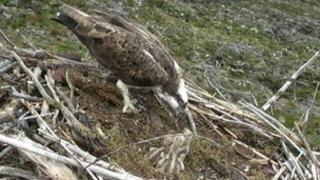 A mystery male osprey has appeared in a Northumberland forest haven.
Staff at Kielder Water and Forest Park had believed a male and female who returned in April were the same pair who have been breeding at the site since 2009.
It is now believed the female has a new partner after rings were spotted on his leg. The previous male was not ringed.
It is thought the original male died and the female met her new partner during her migration to Africa.
The new couple recently had a healthy fledging.
Martin Davison, Forestry Commission ornithologist, said: "We can't be absolutely certain, but it does seem very likely that the female has mated with a new bird.
'Stepped in'
"Last year she chased away a male interloper while her mate was on a hunting trip - so perhaps it is this bird that has taken up residence. That begs the question what happened to the original male.
"It's most likely he died some time between leaving Kielder last September to migrate to sub-Saharan Africa and making the return journey.
"If that is the case it is very sad, but also reassuring that another male has stepped in so quickly to continue the osprey success story at Kielder."
Breeding ospreys returned to the North East in 2009, for the first time in 200 years, with three chicks fledging each year at the site.
The chicks are being watched on CCTV cameras at Kielder Castle Visitor Centre.