Flood alerts: Driver dies as North East flood risk eases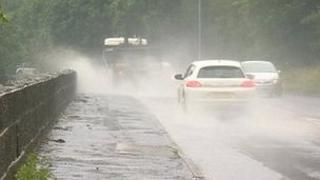 Motorists have been warned to be aware of standing water after a man died when his car came off the road in Northumberland after torrential rain.
The man, in his 20s, was pronounced dead at the scene on the A68 at Kiln Pit Hill, early on Saturday.
Flood alerts that were in place for County Durham and Northumberland have been lifted.
A small number of homes in Northumberland and County Durham were evacuated overnight as a precaution.
Higher ground
A number of homes in Warren Mill, near Belford in Northumberland, were evacuated by police as a precaution on Friday night after flooding in the area.
People at a nearby caravan park were also moved to a cafe which is on higher ground.
A stretch of the A1 between Belford and Haggerston Castle was closed for a short time when standing water made the road impassable. It is now passable only with extreme care.
All other major road routes are open, but many are affected by standing water.
A handful of properties in Wingate and Newton Aycliffe in County Durham and in Darlington were evacuated late on Friday due to a risk of flooding.
A Northumbria force spokesman said: "We have been working with the Environment Agency, Met Office and local authorities to ensure minimal disruption.
"Officers from all areas of the force have been out on patrol throughout the night making sure our communities have had the support and help they needed.
"Over the course of the night a number of roads were closed due to surface water and localised flooding."
Forecasters have warned that more rain is likely for Northumberland, Tyne and Wear and County Durham late on Sunday, but not as heavy as in the previous 24 hours.
The enhanced content on this page requires Javascript and Flash Player 9
Map Key
Land
Cloud
Lakes, Rivers & Sea
Fog
Light
Heavy
Frost
Light
Heavy
Pressure Fronts
Cold
Warm
Occluded
Rain
Light
Heavy
Extreme
Snow
Light
Heavy
Temperature tab only
Temperature (°C)
More details from BBC Weather