Alnwick Garden attracts £150m for Northumberland economy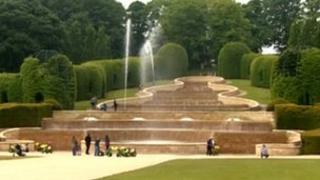 Alnwick Garden in Northumberland has brought in £150m to the local economy, an independent report has suggested.
Founded by the Duchess of Northumberland, the garden has attracted about 3.8m visitors since it opened in 2002.
The study by Price Waterhouse Coopers found that for every £1 spent at the garden, an additional 85p was generated within the local economy.
It was published on the tourist attraction's 10th birthday.
The garden is known for unconventional garden designs, which includes growing cannabis and opium in a high-security Poison Garden and building the world's largest wheelchair-accessible tree house.
'Good start'
The Duchess of Northumberland, Jane Northumberland, has been working on the garden for the past 17 years and raises funds for various projects within it.
She said: "For me, I haven't finished what I set out to do. It has been a good start and I've still got a few more years to go until I finish.
"It's certainly helped to put Northumberland on the map as a tourist destination.
"The most exciting bit of it all is that an American businessman has just given me the money for the first phase of a lighting project which will be ready for winter opening."
The report says about 59% of its 3.8m visitors are from outside the north-east of England, attracting inward investment to Northumberland.
Julie Robinson, who owns a fashion accessory gift shop in Alnwick, said: "I would say about 80% of my business comes from tourism."
However, a worker at Blackmore's of Alnwick, a hotel in the town, said: "The only trade we get from the garden is if they are doing a wedding."