Olympic torch: Relay visits Alnwick Castle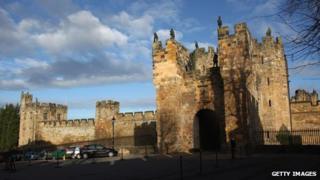 The Olympic flame has arrived in Northumberland, passing through Berwick and Bamburgh to Alnwick Castle .
Berwick's crowds were described by BBC Look North's Mark Tulip, in the torch convoy, as "absolutely extraordinary".
Day 27 of the relay started in Edinburgh as the flame set out for its 140-mile trip through the Scottish Borders into England.
Scottish sprint legend Allan Wells and GB handball captain Lynn McCafferty were among today's torch bearers.
The first of the day's 130-strong team was swimmer Raquel Matos, 16, from Edinburgh, who started the relay in Festival Square.
World Irish Dancing Champion Lauren Wales, 13, from Blaydon, carried the flame through Loanhead in Midlothian.
Chris Paterson, 34, Scotland's most-capped rugby player with 109 appearances, made short work of his leg with the torch in Galashiels.
BBC Newcastle reporter Fiona Marley Paterson said the atmosphere in Berwick felt like "great big family fun day out".
She said: "It was incredible to be part of it. Very exciting scene here and the sunshine is helping."
One Berwick resident, Chloe Carroll, tweeted: "Olympic torch has been past my house! Whoop! Go Berwick!"
The day ends with an evening celebration on Alnwick Castle Pastures.
There will be performances from Little Comets - an indie band from Jarrow and Newcastle - as well as dance act Twist and Pulse.
A total of 8,000 people will carry the flame during its 8,000 mile, 70-day journey to the opening ceremony of the Olympic Games in London on 27 July.