Kielder Forest ospreys: Two of six chicks feared dead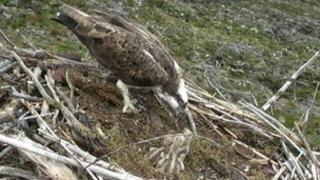 Two out of six osprey chicks that hatched in a Northumberland forest haven are feared dead after disappearing from their nest.
Staff at Kielder Water and Forest Park had been delighted when six fledglings hatched - three each in two nests.
The birds' mothers had been doing their best to shield them from recent storms and Forestry Commission staff had hoped all six would survive.
However, two chicks have disappeared from one nest and are now feared dead.
A third chick also vanished from sight on the same day - on Saturday - but later emerged from beneath its rain-soaked mother when its father arrived with a fish.
Tom Dearnley, Forestry Commission ecologist, said: "This is the most vulnerable time for chicks and the weather has not been good, but it's important not to get downbeat.
"A degree of natural mortality is normal in all wildlife and we still have four chicks."
'Spirits lift'
Breeding ospreys returned to the North East in 2009, for the first time in 200 years, with three chicks fledging each year at the site.
The chicks are being watched on CCTV cameras at Kielder Castle Visitor Centre.
Joanna Dailey, Kielder Osprey Watch volunteer, added: "It has been quite draining watching events unfold over the weekend.
"Mum on nest two has been doing her best to make sure the smallest chick gets some food, even though it has two bigger siblings.
"The weather has been grim, but every time the males come back with fish everyone's spirits lift."