Gateshead husband and wife both win lottery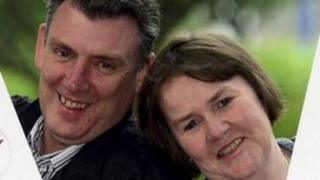 A husband and wife have each scooped nearly £100,000 on the National Lottery after buying two tickets by mistake.
Labourer John Ord, 52, bought a ticket not knowing wife Karen, 44, had also purchased one with the same numbers.
Their numbers - a combination of family birthdays - were drawn in Saturday's draw. They matched five plus the bonus ball, winning £96,527 on each ticket.
The Gateshead couple, who married 20 years ago, plan to treat their sons, aged between 12 and 17, to a holiday.
Mrs Ord said: "I always announce the jackpot to my husband when the draw show comes on.
"When our numbers came out it was unbelievable. We still can't believe it and we keep watching the draw back again and again.
"I lost my dad to cancer nearly six years ago. I always say goodnight to him and ask him to send good luck and he has delivered in style - twice."
'Enjoy life'
Mr Ord said: "It's a fantastic feeling. Our two youngest boys are really excited but our eldest is very cool about the whole thing and taking it in his stride.
"I love my work so I don't want to give it up but the win means that we can now sit back, relax and enjoy life."
Mr Ord said he also had his eye on a new car.
The winning tickets were bought from Felling Post Office, Gateshead, and Carey Newsagents at the Metro Station in Heworth, Camelot said.
Saturday's winning numbers were 16, 18, 20, 25, 29 and 34 and the bonus ball was 15.