Kielder Forest ospreys: Sixth chick fledges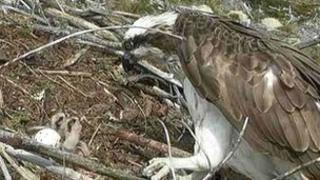 A sixth osprey chick has hatched at a Northumberland forest haven - double the number last year.
There are now three chicks in each of two nests in Kielder Water and Forest Park. The sixth hatched on Thursday.
Forestry Commission staff are monitoring the birds to see if they survive the stormy weather.
Breeding ospreys returned to the North East in 2009 for the first time in 200 years.
Since then three chicks have fledged each year at the site, but the Forestry Commission is hoping that all six will survive this year.
A spokesman said: "We are keeping our fingers crossed. It has been difficult to view the new arrivals because the parents are shielding them from the rain and trying to keep them from getting cold.
"All chicks are vulnerable because they get cold and also the parents find it difficult to hunt fish in adverse weather.
"If all of the fledglings survive it will be a record number of ospreys for us."
The hatching chicks have been watched on cameras at Kielder Castle Visitor Centre.