Felling Pit disaster remembered on 200th anniversary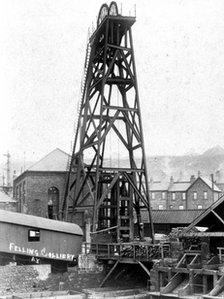 The 200th anniversary of a mining disaster which killed 92 men and boys in Gateshead is being commemorated.
The blast at the John Pit in Felling on 25 May 1812 sent coal dust and flames into the air from the shaft.
More than 30 workers escaped, but some of the victims were only eight years old, and the disaster led to an outcry and changes in mining safety standards.
Now, thanks to a £25,000 grant from the Heritage Lottery Fund, the disaster is being marked with two days' of events.
The explosion was a turning point for the mining industry as it brought about the introduction of miners' safety lamps and eventually the Davy Lamp, which was used underground for generations.
A new Felling Colliery banner will be at the centre of a parade led by The Felling Band on Friday.
Starting at St Mary's Church in Heworth, they will end at the entrance of the colliery site in Mulberry Street, Felling.
Commemorative blue plaques will also be unveiled by the Mayor of Gateshead, councillor Malcolm Brain, to mark the site of the pit and the churchyard memorial - creating a lasting memory of the disaster.
Gateshead councillor Linda Green said: "Some events change history forever - the Felling Pit disaster did just that.
"We felt that it was vital that we remembered the lives lost on that terrible day 200 years ago, but also the change that it brought about.
"Felling has a very important place in British history and I believe that the events and commemorations that are taking place will bring this heritage to the attention of a whole new generation."
The events have been organised by the Felling Activity Project Group, supported by Beamish Museum, Tyne & Wear Archives & Museums, Akzo Nobel, Gateshead Council, Nexus and the Durham Miners' Association.
Ivor Crowther, head of the Heritage Lottery Fund North East, said: "The Felling Pit disaster was a tragic event that had a massive impact on the families of those who were lost, the mining industry and people across the country.
"Marking the 200th anniversary through these wonderful community activities will pay tribute to the substantial loss of life that day and make sure this story is not forgotten.
"We are proud to be supporting this project that will share this heritage with a wider and younger audience."
Local residents and employees from Akzo Nobel, a research laboratory in Felling, have also worked with an artist to create a mural close to the colliery site at Felling Metro station.
School children will also take part in their own parade and play at Beamish Museum on Saturday.
Related Internet Links
The BBC is not responsible for the content of external sites.