Dark sky protection bid for Northumberland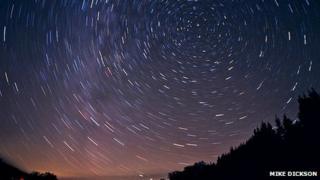 People in Northumberland could soon have better views of the night sky.
A consultation is due to get under way on securing dark sky status for nearly 400 square miles of countryside in the Kielder Forest area, in a move aimed at boosting tourism.
If successful, controls would be put in place to prevent light pollution.
Project chiefs will talk to residents, parish councils and businesses to gauge feedback before an application to the International Dark-Sky Association.
Light meter readings from volunteers have confirmed that the area already has some of the darkest skies in England.
'Fantastic opportunity'
Elisabeth Rowark, director of the Kielder Water & Development Trust, said: "It's crucial to understand that dark sky status does not mean turning lights off.
"Rather it is about working with people and Northumberland County Council to create better and less wasteful lighting and promoting the night sky as an asset for the region."
Duncan Wise, from the Northumberland National Park Authority, described it as a "fantastic opportunity to protect our cherished skies."
He said: "It will be a spur to sustainable tourism, help cut energy costs and benefit nocturnal wildlife."
"No one benefits from poor lighting. It takes away the beauty of the night sky, often disturbs sleep patterns and can have a negative impact on our wildlife.
"By acting now we can protect the special quality of the National Park that is valued by residents and visitors alike for future generations to enjoy."