Dog falls from Wallsend Collingwood Monument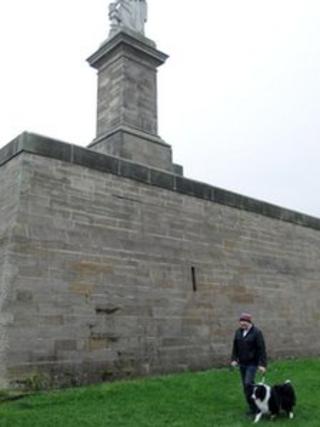 Dog owners have been warned to keep their pets on leads after a border collie fell from a statue on Tyneside.
Jazz was chasing owner Michael Sinton, 59, on the Lord Collingwood Monument in Tynemouth when he leapt off the base of the statue and plunged 25ft (7.62m).
Mr Sinton from Wallsend, rushed to his aid and was "amazed" to find Jazz running around on the ground.
But later Mr Sinton saw a blood trail on the floor from Jazz, and a PDSA vet found the dog had an injured penis.
'Eye-watering'
Tanya Palmer, PDSA senior veterinary surgeon at the PetAid hospital in Newcastle, said: "He was given painkillers and antibiotics to fight off any infection and fortunately he wasn't too badly injured and has gone on to make a full recovery.
"Now and again we do see pets that have been involved in falls and Jazz was very lucky that he wasn't seriously injured with no permanent damage."
She added: "Despite the eye-watering nature of his injury he got off relatively lightly given the distance he fell. Even a fall from a very low height can result in fractures or significant injuries.
"I would always advise owners to keep their dogs on a lead when walking near to potential falls.
"Even if relatively low, these types of hazards are usually not obvious to our pets."
Mr Sinton said he now keeps Jazz on a lead unless he is "absolutely certain he'll be as safe as possible".