Newcastle's Military Vehicle Museum future secured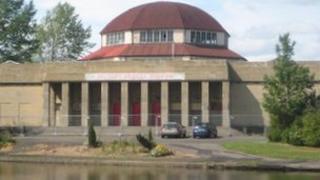 The future of a landmark building created to celebrate the industrial success of Tyneside has been secured.
The former Military Vehicle Museum in Newcastle's Exhibition Park opened as a "Palace of the Arts" in 1929.
Built as a temporary structure, it later had a number of uses and gained a Grade II-listing, but its deteriorating condition led to its closure in 2006.
Now a company in Newcastle has bought the museum and plans to restore it to its former glory.
Newcastle City Council put the museum up for sale in November 2011 after it said it could no longer afford repairs.
The council received bids from three interested parties and chose Shepherd Offshore Ltd after a detailed assessment.
Learn something new
Councillor Henry Murison, said: "I believe this is a great deal for the city and look forward to it being restored to its former glory and safeguarded for the enjoyment of future generations."
The company plans to house 20 exhibits, including 10 horse-drawn carriages from the Seaton Delaval collection and 10 vintage vehicles including a Rolls Royce belonging to King George V.
Freddy Shepherd of Shepherd Offshore, said: "I think it's very important that Newcastle keeps this building...It will become another great attraction when it houses the collection of carriages which go back to the 1860s, and a collection of vintage vehicles."
Based in Walker, Shepherd Offshore provide products and services to oil and gas, subsea and offshore renewable energy industries.
It is hoped that the building can be restored with the help of grants, with profits going to North East charities.