Underwater search in River Wear for missing boy, eight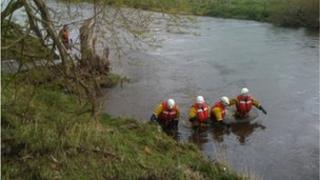 A specialist underwater team has joined the search for an eight-year-old boy who is missing after falling into the River Wear in County Durham.
He was playing with friends near Willington, Crook when he fell into the river at about 19:00 BST on Friday.
The boy, from Sunnybrow, is believed to have fallen from an embankment close to the Brown Trout pub at Prospect Place.
The pub's owner said the boy's brother had told search teams his sibling grabbed a branch, which then snapped.
Janice Larnach said: "His brother said he saw him fall in, hang on to a branch and that snapped but he hasn't been found up to now, " she said.
She added there had been heavy rain in the area for a week and the River Wear was "in flood".
RAF and mountain rescue teams continued hunting for the child overnight with Durham Police and the fire service.
A police spokesman said: "Police are continuing their search today for a missing eight-year-old boy who fell into the River Wear, near Willington, last night.
"A specialist underwater search and rescue team is also assisting with the search."
Mrs Larnach added that she believed the boy's bicycle had been discovered on the river bank.