Durham Prison facing 'troubling' drugs problem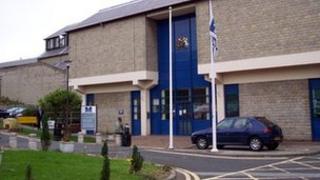 Durham Prison is facing "troubling" drugs problems, with as many as one in three prisoners testing positive in drug tests, inspectors have said.
In February and June 2011, 33.3% of prisoners tested positive in random mandatory drug testing at HMP Durham.
A poll of a quarter of all inmates also found 13% had developed a problem with drugs since being held in the prison.
HM chief inspector of prisons, Nick Hardwick, said progress "continues to be made" but "much remains to do".
The inspection found that the availability of drugs was a "significant" cause of bullying in the prison and efforts to reduce demand were "weak" - with the drug treatment service "poorly staffed" and "lacking leadership".
Mr Hardwick said: "HMP Durham therefore presents a mixed picture.
"It has improved and some of the developments and new services it has in progress - in resettlement and purposeful activity for instance - are very promising.
'Developing positively'
"However, there are some areas, such as combating the supply of drugs, making sure prisoners get to activities, addressing diversity issues and taking a whole prison approach to resettlement, that we did not detect were being addressed with sufficient vigour. There is more to do."
The inspection also found "significant levels" of self-harm, with more than 250 incidents within nine months.
Improvements at the category B prison had been most marked in learning and skills, which had increased "substantially" with some good new facilities and vocational workshops were found to be "generally good".
The range of mental health services were also said to be "developing positively".
Michael Spurr, chief executive officer of the National Offender Management Service, said: "Durham is currently subject to a competition process and major refurbishment, and I'm pleased that the chief inspector records that it continues to improve particularly in resettlement and learning and skills.
"I accept that there is more to do, especially with regard to drugs, and the governor and his staff will focus on the areas identified for further improvement."