Second osprey pair nest in Kielder Forest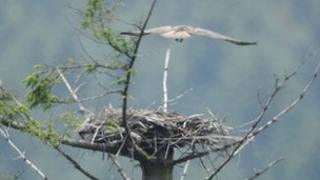 A second pair of rare ospreys have nested in a Northumberland forest.
The birds, which arrived at Kielder on Friday, join a pair that returned to the forest for the fourth successive year earlier this month.
Both sets of birds have made nests on artificial platforms erected by the Forestry Commission.
Kielder is only the second location in England where ospreys have naturally recolonised after disappearing from the area in the mid-19th century.
Philip Spottiswood, Forestry Commission wildlife manager for northern England, said: "News that both pairs are back aiming to raise more chicks is a massive step forward.
"The second pair arrived a little late, causing us one or two anxious moments. But the prospects are looking good and we hope to add to the nine chicks raised in Kielder since the species returned to breed for the first time in at least two centuries in 2009."
Cameras have been erected near the birds and live footage will be beamed into Kielder Castle Visitor Centre and Leaplish Waterside Park for visitors to enjoy.