Artefacts thieves 'cut 3ft hole'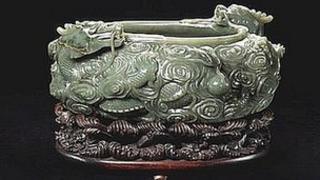 Raiders who stole two artefacts worth £1.8m from Durham University cut a 3ft wide (1m) hole in the wall to get in, police have revealed.
The break-in during the night at the university's Oriental Museum took place on Thursday 5 April.
They escaped with an 18th Century jade bowl and a Dehua porcelain figurine from the Malcolm MacDonald Gallery.
Five people have been arrested and bailed. Durham Police said the thieves cut a 3ft by 2ft gap in the wall.
Four men, aged 27, 56, 41 and 36, and a 34-year-old woman, from Walsall, West Midlands, were arrested on suspicion of conspiracy to commit burglary.
The treasures date back to the Qing Dynasty, the last imperial dynasty in China, which ruled from 1644 to 1911.
The items have not yet been recovered.
Det Supt Adrian Green said he believed the burglars were only in the museum for a minute or two.
He said: "They have spent around 40 minutes creating a hole in an outside wall and when it has been big enough, they have entered the gallery and made straight for these two items.
"I am sure this job has been planned for quite some time and I would think the artefacts have been stolen to order, for someone who has already identified a potential market."
The large green jade bowl, dating from 1769, is from the collection of Sir Charles Hardinge, a British collector of jades and hardstones. A Chinese poem is written inside.
The Dehua porcelain sculpture, which has a cream white glaze and depicts seven fairies in a boat, is 30cm in both height and length.