Durham's Lumiere festival of light 'brought in £4.3m'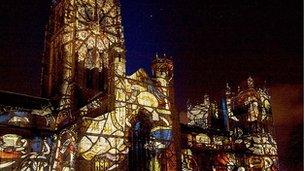 A four-day festival of light in County Durham generated £4.3m for the local economy, a report has concluded.
Durham City's Lumiere festival attracted more than 150,000 visitors last November.
The event saw landmarks like Durham Cathedral and the city's castle lit up for five hours a night.
Durham County Council said an independent audit of the festival showed its spend of £400,000 was "fantastic" value for money.
The authority commissioned a financial assessment of the festival from Miller Research Evaluation Consulting.
Cabinet member for regeneration and economic development, Neil Foster, said: "The economic impact speaks for itself.
"A figure of £4.3m is a fantastic return on our investment and a hugely significant boost for the county's economy.
"We had 150,000 people come to Durham city over those four magical evenings last November, many ate in the county's cafes and restaurants, made the most of the county's diverse retail offer and a good number will also have stayed in the accommodation options available.
"This one event has brought millions into the local economy, but we are in the most austere of times and so it is only right that we take careful consideration of this should a further festival be decided upon at a later date."
The first Lumiere event in the city attracted 75,000 people and generated £1.5m.
Event costs of about £1.5m are shared between the county council and production company Artichoke.
A decision on whether to commission a further festival is due to be taken later this year.
Related Internet Links
The BBC is not responsible for the content of external sites.