Crew of ship grounded at South Shields criticised in report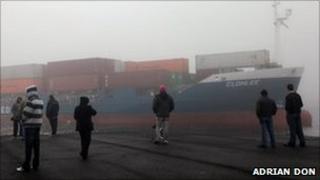 The voyage of a ship which ran aground in the mouth of the River Tyne had not been properly "planned, executed or monitored", a report has found.
The Clonlee was heading for South Shields when it suffered a power failure on 16 March last year.
No-one was hurt, but a Marine Accident Investigation Branch report said the crew of the container vessel were "unprepared" for the emergency.
Owners, North Atlantic Shipping Ltd, said it had improved crew training.
The 4,000-tonne, Isle of Man-registered vessel was aided by two tugs and eventually managed to complete the journey to the Port of Tyne.
The 68-page report highlighted poor communication amongst crew members after the ship ran aground, as well as a string of mechanical failures.
Despite the ship's engineering crew being experienced, the report said: "Following the blackout, there was a total breakdown in communications on board the vessel.
"The bridge and engine room teams did not talk to each other for over an hour, and the engineers were unaware of the navigational situation throughout.
"Clonlee's voyage from Rotterdam to South Shields was not appraised, planned, executed and monitored in accordance with requirements."
The Port of Tyne said it had also made changes to procedures in light of the report.