Appeal to help rewrite Geordie anthem The Blaydon Races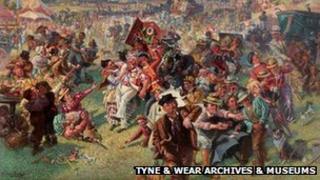 A Tyneside songwriter is appealing for people to help reinvent the classic Geordie anthem The Blaydon Races.
Walker-born singer-songwriter Pete Scott wants people to help him rewrite the six verses of the song for its 150th anniversary.
Mr Scott said he had "no desire" to replace the song, but wants the new lyrics to reflect the "spirit of the times".
He is working with BBC Newcastle to appeal for local people's ideas.
Written by Geordie Ridley in 1862, the song has inspired the annual sporting event for over a century as runners make their way through the streets of Newcastle and Gateshead on the 5.9-mile route.
Mr Scott said: "I am very pleased to have been asked to do it because I have always been interested in the lives of Victorian writers like Joe Wilson and Geordie Ridley, they're very inspiring.
"We have no desire to replace it, but we want to reflect the spirit of the times.
"People may be a little bit dubious about it, but surprised in a nice way."
Mr Scott said he wanted to rewrite the song so that in the future people know what the area was like at the time of the song, just like the original song did over a century ago.
The tune and the chorus of the song will stay the same, with County Durham-born opera singer Graeme Danby, set to sing the final composition in June.
To mark the milestone, Newcastle City Council and Gateshead Council are also planning a series of celebrations.
Mr Scott said: "It's a real honour. If it turns out how I think it is going to, it's going to be a life highlight."
Ideas for lyrics can be posted on the BBC Newcastle Blaydon Races 2012 Facebook page or sent in by post.
Mr Scott will also be holding writing workshops with community groups along the route of the race to get more ideas.