Nesting ospreys return to Kielder Forest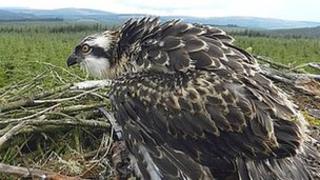 A pair of ospreys have returned to a nesting site in Northumberland for the fourth successive year.
Rangers said the pair - the first to breed successfully in north-east England for 200 years - had returned to a nesting site at Kielder Forest.
Last year three chicks were hatched, but only one survived after the forest was hit by severe storms.
Experts said the birds will have travelled about 5,000 miles from sub-Saharan Africa back to Northumberland.
Ospreys develop a life-long bond and tend to be return to the same nest site each year.
Nick Adams, RSPB area conservation manager, said: "Last year the female was delayed for over a week due to bad weather en route, so we are delighted that the wait has been short this time.
"The birds have been exemplary parents since 2009, raising a total of seven chicks.
"We have great hopes of another osprey family being born in Kielder, boosting the re-colonisation of the species to other areas of England."
Within the space of about five months the birds must breed, incubate eggs, nurture their chicks, wait for them to fledge and teach them how to hunt on Kielder Water. By the end of August the chicks will be on their own.
Live footage from the nest is due to be shown at the Kielder Castle Visitor Centre, which has now reopened after the winter break.