Holy Island safety signs trial to prevent stranded vehicles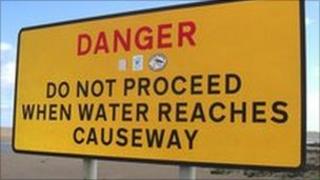 A trial of safety message signs have been placed on the approach to the Holy Island causeway to prevent vehicles from becoming stranded.
The trial follows concerns raised during summer 2011 after an increase in the number of stranded vehicles.
The two signs will advise motorists of the dangers of the tides and also remind them to check tide timetables.
Northumberland County Councillor Isabel Hunter said she was "confident" they would have a "positive impact".
The first sign is placed in front of the lay-by section where the tide tables are available to check.
The second will be in a range of locations throughout the two week trial to gauge where it has the most impact.
'Gauge feedback'
Ms Hunter said: "This two week trial is an exciting time for us to monitor how the system could work, but also to gauge feedback from residents and visitors.
"I am confident that these changes will have a positive impact and will help to reduce instances of cars becoming stranded on the causeway."
The tide timetables available on the island, website and other locations across the county are also being redesigned over the two-week period to make them clearer and easier to follow.
A Quick Response (QR) barcode for smartphones has been developed so that visitors can access the tide table information quickly.
If the trial period is successful, it is hoped that more complex and interactive message signs will be installed during the summer.
The trial ends on the 14 April.