Sir Bobby Robson Foundation raises £4m on fourth anniversary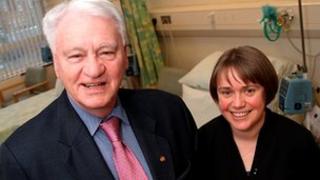 Cancer-fighting charity the Sir Bobby Robson Foundation has raised more than £4m, it has revealed as it celebrates its fourth anniversary.
The former England and Newcastle manager launched the project as he battled cancer for a fifth time, in 2008.
The initial target of raising £500,000 was reached in seven weeks and has continued to rise.
Sir Bobby died in July 2009 at the age of 76.
The total now stands at £4,095,264 and the money is aimed at "contributing significantly to the coordinated, international research" into cancer, a spokeswoman said.
Sir Bobby launched the foundation with the support of his oncologist Professor Ruth Plummer.
'Absolutely committed'
More than 1,000 patients have been treated on clinical trials since its Sir Bobby Centre opened in February 2009.
Sir Bobby believed the cause was his greatest legacy after a lifetime in professional sport, Professor Plummer said
"Sir Bobby was absolutely committed to this charity," she said.
"He said he'd give up a year to help us but he actually remained passionately involved for the last 18 months of his life despite being extremely ill.
"The way people continue to help us is amazing. It's an incredible and very worthy tribute to Sir Bobby and an acknowledgement of just how many people are affected by cancer one way or another."
'Exciting possibilities'
Ms Plummer said they had no idea what the charity could go on to achieve.
"It's amazing to look back on what has already been funded and see the difference it is making to people with cancer," she said.
"Looking to the future, we're currently exploring a number of exciting possibilities which will enhance the services and equipment we've already invested in."
The foundation funds projects within the Newcastle upon Tyne Hospitals NHS Foundation Trust area, directly benefiting cancer patients from across the North East and Cumbria.
An additional 1,000 patients have been enrolled in other research studies, studying the biology and genetics of cancer to help develop and improve treatments.