Campaigner to end occupation of Sunderland-built City of Adelaide clipper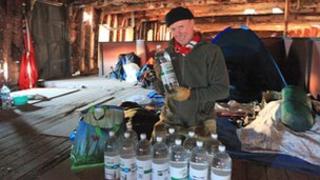 A campaigner is to end a month-long occupation of a Wearside-built 148-year-old clipper ship over plans to move it to Australia.
Peter Maddison, from Sunderland, boarded the City of Adelaide on 26 February, claiming the vessel should return to the city, where it was built.
A group from Adelaide, Australia, won a bid to turn the ship into a heritage and tourist attraction in 2010.
Mr Maddison said he planned to leave the ship on Sunday.
The former merchant seaman and Sunderland councillor said his stay had "served its purpose".
The vessel's owner, the Scottish Maritime Museum, said plans to put the ship onto a specially-made cradle for its sea journey to Australia, were going ahead as planned in April.
'Pivotal point'
Mr Maddison, who is chairman of the Sunderland City of Adelaide Recovery Fund (Scarf), described his time on board the vessel as "triumphant".
He said he remained hopeful that a way could still be found to keep the ship in the UK.
But he added: "Our campaign will now be better served by me being back in Sunderland.
"We are at a pivotal point of our campaign and I believe my four weeks on board have highlighted the reasons for the Adelaide to be brought back to Sunderland."
The City of Adelaide, built in Sunderland in 1864, has lain on a slipway in Irvine, Ayrshire, for more than a decade.
A group from Australia have spent £1m on a steel cradle, which has been shipped to the UK and will be used to cocoon the ship during its sea journey.
Mr Maddison held a similar protest in 2009, when the City of Adelaide, the world's oldest surviving clipper ship, was threatened with demolition.
The vessel, later renamed The Carrick, is five years older than the Cutty Sark and voyaged from London to Adelaide with passengers and a cargo of wool.
Its sailing days ended in 1893 and it has been on the slipway in Ayrshire since 1992 while a debate continued about its future.
In 2010 the Scottish government named a group from Australia as the preferred option to move and restore the ship.