Record number of cruise ships to dock at Port of Tyne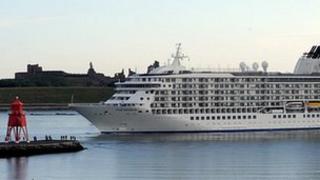 A record number of cruise ships are set to visit the Port of Tyne over the coming year.
At least 37 vessels have booked berths, compared with 20 in 2011, with 17 of them starting their itinerary from North Shields.
The port's chief executive described it as "a real coup".
More than 600,000 passengers travelled through the international terminus in 2011, boosting the region's economy by an estimated £45m.
They included 35,000 cruise ship visitors, and more than 300,000 people travelling on the regular Amsterdam ferry route.
Andrew Moffat, chief executive at the Port of Tyne, said: "It is a real coup to have some of the world's leading cruise operators either starting their cruise itineraries here or making sure that they make north-east England one of their stops on the journey."
Sarah Stewart, chief executive at the NewcastleGateshead Initiative, said: "When cruise ships arrive on the River Tyne, passengers enjoy a wealth of experiences across north-east England, and we know they are more likely to return as a result.
"We are delighted to continue to work with the port and cruise and ferry operators to maximise opportunities for routes into and out of the destination."