Gravemarker thefts cause damage at Sunderland cemetery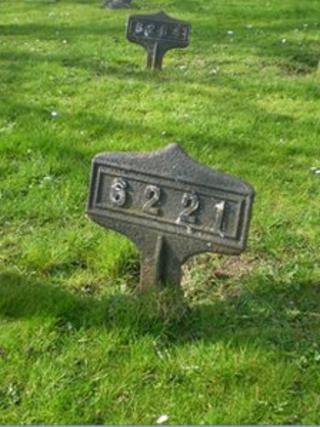 Thieves have stolen 24 cast iron Victorian grave markers from a cemetery in Sunderland, causing "significant damage" to the ground.
The incident happened at a cemetery in Grangetown on Wednesday night.
Installed in the Victorian era to identify grave locations, more than 50% of each marker is sunk below the surface - meaning thieves had to dig deep to get the markers out.
Sunderland councillor James Blackburn said it was a "despicable act".
"I would appeal to anyone who saw anything suspicious in the cemetery on Wednesday evening to contact the police," said Mr Blackburn.
"And I'm also urging any local scrap metal dealers who are approached by someone trying to sell these markers to report it as a matter of urgency.
"This really is a despicable act, how anyone could stoop so low as to steal from a cemetery beggars belief."
The markers measure approximately 65cm (25in) tall and 40cm (16in) wide and each weigh about 14kg (30lb).
Northumbria Police said it was one of a series of metal thefts across the region.
Neighbourhood inspector John Connolly said: "We're working with scrap metal yards throughout the area and asking dealers to be extra vigilant. If anyone brings the grave markers into their yard we'd urge them to contact police."