Final River Tyne bollard removed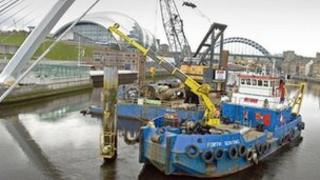 The last of 14 bollards which have skirted Gateshead's Millennium Bridge for the past decade has been removed.
The grey stiles - which were not part of the bridge's original design - were installed to stop vessels on the River Tyne from hitting the bridge.
But they have always been unpopular, with people saying they were ugly, unnecessary and spoiled the view.
Gateshead Council leader Mick Henry said he thinks their removal will prove to be a "very popular decision".
A recent assessment of river traffic found the risk of a vessel hitting the bridge was so low that removing the vessel collision protection system (VCPS) would present little risk.
'Bold decision'
"Today will be the first time that anyone will have seen the Gateshead Millennium Bridge as its designer originally intended," said Mr Henry.
"Visitors have frequently commented on the way the bollards and booms under the bridge detract from its appearance, though we've always been committed to retaining them in the interests of river safety.
"But having reviewed the levels of river traffic using the Tyne and established that their removal will not present a major risk, we took the bold decision to remove them."
As well as improving the bridge's appearance, removing the bollards will reduce maintenance costs.
The bollards will be replaced with navigation lights.