London 2012: Tyne and Wear Olympic torch route revealed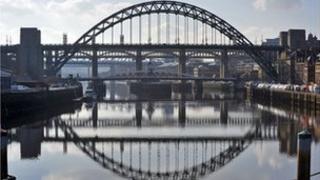 A Royal Marine who was told he would never walk or talk again after developing a brain tumour will carry the Olympic torch on its leg through the north-east of England.
Ian Ronald, from County Durham, is one of 8,000 people who have been selected as torchbearers.
The streets on which the torch will be carried when it arrives in the UK on 18 May, have now been revealed.
Its first stop in the North East will be in Northumberland on 15 June.
Arriving at Alnwick Market Place at 07:28 BST, it will be carried along the coast and inland through Amble, Newbiggin-by-the-sea, Choppington, Morpeth and Blyth.
After passing Cullercoats Primary School at about 14:40 BST, it will go through Whitley Bay, Cullercoats, Tynemouth, North Shields and Wallsend, before heading to Newcastle.
From Northumberland Street, the torch will take flight at about 18:55 BST, as it ends its first day in the North East on a zipwire from the Tyne Bridge.
For the second leg of its North East journey on Saturday, 16 June, the torch will leave The Sage Gateshead at about 06:25 BST.
Constant headache
From there, it will go through South Shields and Whitburn to Sunderland, where it will pass the Stadium of Light.
It will then head to the Angel of the North, before passing through Blaydon, Prudhoe, Stocksfield, Hexham and Consett.
The Olympic torch will end its time in the North East at Emirates Durham International Cricket Ground at 18:50 GMT.
The full torch relay lasts 70 days.
Mr Ronald was nominated to become a torchbearer by The London Organising Committee of the Olympic and Paralympic Games (Locog).
His tattoo, 'Being defeated is often a temporary condition. Giving up is what makes it permanent', gives an insight into the life he has led for the past four years.
Working as a Royal Marine, he discovered he had a brain tumour in 2008 after suffering from a constant headache for four weeks.
After going through 12 hours of brain surgery in May 2008, his mother was told he was "lucky to have survived" and that he would "never walk or talk again".
From the surgery he sustained loss of speech, short-term loss of movement from the neck down, loss of hearing and sight on his left side, facial paralysis, loss of sensation and co-ordination problems.
However, he was determined to get back to full health and spent the next few years of his life in rehabilitation.
'Positive opportunities'
He said: "I could not of overcome this without the fantastic support and love from all my family, friends and the Marines.
"Something extremely negative happened to me, however all my hard work and resolve has paid off and this has presented many positive opportunities."
Nearing the end of his rehabilitation, he has completed two Great North Runs and took up rowing - even taking part in the European Indoor Championships.
Soon he will be medically discharged from service to move on to new challenges.
He said: "I've always been a firm believer that feeling sorry for yourself gets you nowhere and that life goes on.
"My rehabilitation has consumed my life for the last four years and this monumental occasion is such an honour to close this chapter of my life with and move forward.
"The magnitude of this is yet to hit me completely but I'm overwhelmed that I can be a part of it."
William Hardy, 14, from Newcastle, was nominated to become a torchbearer by Newcastle City Council.
After contracting meningitis when he was 23 months old, both of his legs and half his left arm had to be amputated.
In 2009, Mr Hardy joined a school swimming club and was identified for a disability talent identification day, where it was recommended he join Gosforth Dolphins.
Within three months he was a national champion and is now in the 2011 British Disability Swimming world class talent programme.
He has also expanded his sporting talent by becoming a keen cricketer, recently playing as captain for the Newcastle Wasps Cricket Club.
His mother Hilary said: "Will is an inspiration to me everyday."