Newcastle fans offer cash aid to St James graffiti man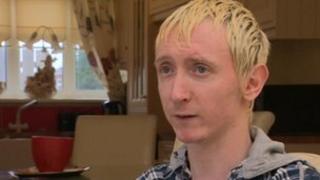 Newcastle United fans have offered to pay the court costs of a supporter who admitted painting the words "St James" on the wall of the club's ground.
Hours after the St James' Park sign was removed, Michael Atkinson, of Newbiggin Hall, said he had decided to go to the ground to paint the name back on.
The 30-year-old admitted criminal damage and was given a conditional discharge by Newcastle magistrates.
A fans' group has offered to cover the clean-up costs imposed by the court.
The hearing was told unemployed Atkinson was "angry" that owner Mike Ashley had changed the name to the Sports Direct Arena.
The St James' Park sign was removed from the ground on 16 February to make way for its new name.
Atkinson daubed the words St James in white paint in the early hours of the following day.
Eight lagers
Magistrates handed him a conditional discharge and told him to pay £100 towards the £187 clean-up costs after he pleaded guilty to criminal damage.
The court heard Atkinson had drunk eight cans of lager and had read messages on Facebook about the name change.
Alan Wilson, defending, said: "He would never have done it, but for being in drink.
"On reflection he accepts he was wrong and it won't happen again."
Since he was arrested, he has been banned from attending Newcastle United games by the club.
Chairman of the bench Adrian Hadden said: "What you did was fairly stupid. You have caused criminal damage to a club which you say you support."
After the hearing Atkinson said: "Being banned from games is worse than the fine. I don't really regret it but I won't do it again."
Graeme Cansdale of NUFC Fans United said supporters had approached him offering to help Atkinson cover the cost of his protest.
He added: "He has done something illegal, but I don't think he has hurt the club."
Newcastle United declined to comment.