Holy Island lookout tower to provide panoramic views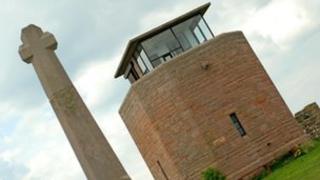 An old lookout tower on Holy Island built more than 70 years ago is to be transformed into a 360 degree glass observatory to provide a panoramic view of the island.
The tower, perched above the village off the Northumberland coast, was built for use by the coastguard in the 1940s but has been disused for many years.
Now the Lindisfarne Community Development Trust (HILCDT) is working with Natural England to transform the building into an observation point for the local community and visitors to the island.
Adrian Vass, Natural England area manager, said the organisation was "delighted" to be helping with the project.
The renovation work will see the top tier of the tower turned into the new viewing point, and is being funded through £450,000 from a Natural England Environmental Stewardship agreement.
From the glass room, visitors will be able to see as far as The Farne Islands, the Cheviot Hills and the Berwickshire coast.
The interior will also receive a complete makeover and be weatherproofed and the ladder between the ground floor and the first-floor gallery will be replaced by a staircase to provide easier access.
'Raise the alarm'
"Its extraordinary history and unique setting make Holy Island a very special place," said Mr Vass.
"We hope they will benefit the local community and visitors alike by providing facilities for the community to use and a window for visitors into the wilder side of Lindisfarne."
The funding is also being used to create a viewing area and education point overlooking the Rocket Field, which attracts large numbers of wildfowl to the flooded fields.
The Window on Wild Lindisfarne will be built using natural stone and a turf roof so it merges in with the surrounding landscape.
The two sites are closely associated in the history of Holy Island and many local people remember when they were younger running from the lookout to the Rocket House to raise the alarm to launch a breeches buoy to a stricken vessel.
Dick Patterson, who lives on the island and is chair of HILCDT, said: "As a lad, I well remember sprinting between the lookout tower and the Rocket House to raise the alarm after the coastguard had spotted a ship in trouble.
"I'm delighted the trust is now leading on exciting projects at both sites that will benefit local people and visitors.
"It is an excellent chance to safeguard an important part of the island' s history and also a great opportunity to open the eyes of visitors to the wonderful natural environment here."
Work on the tower has already begun and work on the Rocket Field is due to start in the spring.
Both projects are expected to be completed by September.