Hundreds of jobs lost as Alcan Lynemouth smelter closes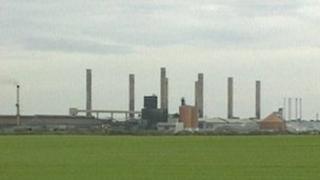 A Northumberland aluminium smelting plant which employs more than 500 people, is to close.
Rio Tinto Alcan, which owns the plant at Lynemouth, announced plans to close the site in November and a 90-day consultation ended last week.
It said that of the 515 people currently employed at the smelter, 323 would be made redundant in May.
The GMB union has described the closure of the smelter which contributes £60m to the area's economy as a "body blow".
'Very hard'
Rio Tinto Alcan chief executive Jacynthe Côté said: "I am saddened by the closure of Lynemouth Smelter but we have reached this decision only after a thorough strategic review of the plant and a fair and transparent consultation process.
"I have met with Lynemouth unions and staff members and I have great respect for the manner in which they have represented their colleagues during consultation.
"We will now focus on safely decommissioning the plant, working with our employees to mitigate the impact of redundancy on them and their families and partnering with all interested stakeholders on the future regional economic development of the Lynemouth site."
The company said some activity would continue during the remainder of 2012 and a core team of 60 would remain beyond the closure.
GMB union regional secretary Tom Brennan said: "This announcement is a body blow for the economy of south Northumberland as this was the last major manufacturing plant in the area.
"It now leaves the public sector as the only major employer in the area. It will be very hard for the workers and their families to get new work."
'Major impact'
Workers facing redundancy will be offered support.
Northumberland County Council leader Councillor Jeff Reid, said: "The decision to close the smelter is devastating for the workforce and their families.
"RTA has been one of Northumberland's major employers for the last 40 years and the loss of the smelter will have a major impact on the people and communities in South East Northumberland, as well as the wider economy.
"We will be working closely with RTA on longer-term plans for site remediation and economic development."
The company said its ship unloading facility at the Port of Blyth would continue for about 18 months.
A team of 60 will stay on the site beyond the closure to work on decommissioning, remediation and regional economic development, it said.
Talks about the sale of Lynemouth Power Station, where 111 people are employed, are ongoing.
The Lynemouth smelter opened in 1972. The plant is estimated to contribute £60m to Northumberland's economy.