Sir Bobby Robson boat launches on River Tyne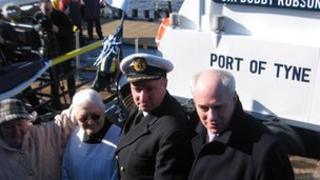 A £1.1m boat, named after football legend Sir Bobby Robson, has been launched on the River Tyne.
It was officially commissioned by Sir Bobby Robson's widow, Lady Elsie Robson, at a ceremony on Monday.
Port of Tyne also donated £5,000 to the cancer charity founded by the former England manager, who died in 2009.
The vessel will carry out regular maintenance work, from dredging the river bed to keeping the port berths clear of debris.
Built by Mustang Marine, based at Pembroke Dock in South Wales, it is about 16m (52ft) long.
'Local hero'
Russell Heron, 28, from South Shields, will be the first skipper of the boat.
He said: "I am really proud to be working on the Sir Bobby Robson.
"She is a great little boat with a lot of power to do a good job.
"I couldn't think of a better name - it's inspirational to be working under the name of a worldwide sports icon and local hero."
The boat is a replacement for the Hedwin, which gave 25 years service on the river.