Gateshead Council confirms 275 jobs to go in budget cuts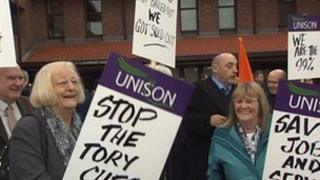 Council bosses in Gateshead have confirmed 275 jobs will go as part of plans to save £22m over the next year.
The Labour-run authority approved the plans at a meeting on Thursday night, predicting that 140 of the jobs losses were likely to be compulsory.
Public sector workers took part in a protest outside the civic centre ahead of the budget meeting.
Council leader Mick Henry said the authority "deeply regretted" having to reduce the authority's workforce.
It was feared up to 350 posts were at risk at the council, which employs about 9,000 people.
Mr Henry said: "This budget, like last year's, is a result of deep cuts by the government. We faced tough choices and we will have to make some incredibly difficult decisions.
"We've been listening to the public's views on our service and how we should spend our money, so we can still deliver the priority services that residents have told us they want.
"We're doing all we can to be fair and protect the most vulnerable in our community and reduce the impact on frontline services that people rely on.
"We're are also freezing council tax so there will be no increase in bills and we have to support economic recovery in our borough."
Mr Henry said the authority would do all it could "to avoid compulsory redundancies wherever possible".