PC David Rathband death: Police aware of concerns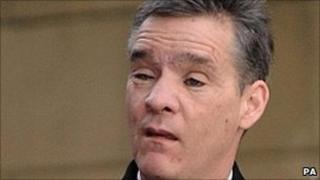 Northumbria Police spoke to PC David Rathband last week after concerns were raised about his mental state.
PC Rathband, who was shot and blinded by gunman Raoul Moat, was found dead at his Northumberland home on Wednesday.
Chief Constable Sue Sim said officers had spoken to PC Rathband over concerns raised about his Twitter posts and had been reassured by him that he was OK.
On 24 February the 44-year-old sent a tweet mourning the loss of his eyes, job, family, wife and marriage.
One of his followers contacted the police Twitter account the same day, asking if the force was aware of PC Rathband's tweets and saying they did not sound very good.
Another follower sent out a general tweet saying someone should intervene because PC Rathband's tweets were worrying.
Ms Sim said: "On Friday night, we received calls from members of the public who were concerned about Twitter feeds allegedly from David.
"Our welfare officers immediately got into contact with David to reassure themselves that he was OK.
'Extraordinarily brave'
"He reassured them that he was all right and that he was returning home [from Australia] on Monday and we were then to meet him at the airport and take him home.
"And the welfare officers were in touch with him from that time."
Police said that no-one else was being sought in connection with PC Rathband's death.
On 4 July 2010, the PC was shot twice by Moat as he was sitting, unarmed, in his patrol car in Newcastle.
A day earlier, in Birtley, Gateshead, Moat had shot and injured his ex-girlfriend Samantha Stobbart, 22, and killed her boyfriend 29-year-old Chris Brown.
Moat was on the run for a week before shooting himself during a stand-off with police.
PC Rathband lost his sight and was fitted with prosthetic eyes.
He was hailed for his charity work in the wake of his injuries and started the Blue Lamp Foundation to help emergency service staff injured in the line of duty.
'Coping extremely well'
Prime Minister David Cameron, who had met the officer, described him as an "extraordinarily brave man" who did "an enormous amount for charity".
Ms Sim said: "David showed outstanding bravery in what was a terrifying situation."
In November the policeman, originally from Stafford, announced on Twitter he and his wife Kath were separating.
He said the move had nothing to do with his arrest on suspicion of assault.
The first patron of the Blue Lamp Foundation, entrepreneur, Duncan Bannatyne, said PC Rathband's death was "very, very sad."
Former Labour Home secretary David Blunkett, himself blind since birth, said: "There was a man who was struggling inside as well as with the practicalities of coping with blindness. He was actually coping extremely well, but he didn't believe so.
"He was so hurt and frustrated and angry inside and felt that he wasn't coping when he was better at using new technology than I was."
PC Rathband's brother Darren, who lives in Australia where the officer had been until recently, tweeted: "On way back to the UK to be at my brother's side. RIP Police Constable 190 David John Rathband."
In March last year two men, Karl Ness, 26, and Qhuram Awan, 23, were convicted of helping Moat.
Both were found guilty of the attempted murder of PC Rathband as well as other charges.
Speaking after the pair were sentenced, the officer said: "Both Ness and Awan will be very old people before they are released or considered for release and long may they stay there.
"These two individuals, along with the other coward who wasn't man enough to stay here, have taken my job from me."