PC David Rathband felt 'vulnerable' after shooting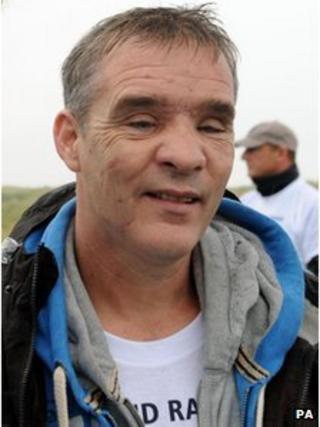 David Rathband often spoke about his struggle to deal with the dramatic changes in his life after being shot by gunman Raoul Moat.
The Northumbria Police traffic officer was blinded when he was shot in the face as he sat in his patrol car in Newcastle in July 2010.
The 44-year-old was found dead at his house in Blyth, Northumberland, on Wednesday night.
Speaking to the BBC three months after the shooting, he spoke of his desire to do "normal" things such as returning to work.
A major step for him in that process was being fitted with prosthetic eyes.
He channelled the attention he received in the wake of the shooting to set up a charity, the Blue Lamp Foundation, to provide support to members of the emergency services injured in the line of duty.
The aim was to raise £1million by 2013,
Among the fundraising events he took part in were last year's London Marathon and a sponsored walk along the Northumberland coast in October 2010.
In 2010, he won the emergency services section of the Pride of Britain awards, in recognition of his courage in dealing with his injuries.
But despite the praise his charity work and his reaction to his disability generated, Mr Rathband said he felt frustrated.
'Not invincible'
In an interview with the BBC's Disability Affairs correspondent Peter White last year, he said he was impatient with having to re-learn how to do things that came so easily to him before he was shot.
"I do feel vulnerable and I'm sure other blind people do," Mr Rathband said. "It's not very nice, I don't like it."
He said being shot had changed the way he thought about himself.
"I think somebody gave me a Superman vest because I always thought I was invincible and now I realise that having been shot in the face and nigh on killed, I'm not invincible, I am just very lucky", he said.
Speaking after two men were convicted of helping Moat, he said: "These two individuals, along with the other coward who wasn't man enough to stay here, have taken my job from me."
In November PC Rathband announced on Twitter that he and his wife Kath were separating.
He said the move had nothing to do with his arrest on suspicion of assault - he was questioned in August after officers were called to an incident at the family home in Cramlington, Northumberland.
He was understood to have been released shortly afterwards.
'Terrible hurt'
PC Rathband had been in Australia, where his brother lives, until recently.
News of his death sparked an outpouring of tributes.
Northumbria Police Chief Constable Sue Sim said: "He was a dedicated officer who acted in the best traditions of the police service."
Former Home Secretary David Blunkett, who was a patron of the Blue Lamp Foundation, said despite his frustrations, he was dealing well with what had happened.
He said: "He was actually coping extremely well but he didn't believe so.
"This is one of the sadnesses of today, that he was so hurt and frustrated and angry inside, and felt that he wasn't coping when he was.
"He was better, if I might say so, at using new technology than I was, he showed me how he was doing it.
"You would hear in his voice the terrible hurt and, the frustration that he couldn't be back where he was, that he couldn't be what he was."