Tributes paid to Raoul Moat victim PC David Rathband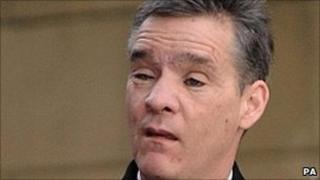 The first patron of PC David Rathband's Blue Lamp Foundation has spoken of his sadness at the officer's death.
Entrepreneur Duncan Bannatyne said he wished he had spent more time with the ex-traffic officer before his death.
PC Rathband, who was shot and blinded by gunman Raoul Moat in 2010, was found dead at his Northumberland home.
Tributes have also come from senior politicians and police officers, led by Prime Minister David Cameron.
Mr Cameron described the former traffic officer as "an extraordinarily brave man" who did "an enormous amount for charity and other injured officers."
The body of PC Rathband, 44, was found by police at his home in Blyth on Wednesday night after officers received a report of concern for his welfare.
'Terrible pain'
Mr Bannatyne said: "It's very, very sad. You know, David suffered a lot of pain in his face because of nerves behind his skin that doctors couldn't find, it wasn't just the fact that he was blind.
"He was in terrible pain most of the time, and taking painkillers. And I think if it wasn't for that I think he would have coped with his blindness.
"I thought he was coping reasonably well, he did find it hard when he was living at home, but his family had another house and he went and lived on his own. He wanted to be on his own, and I just feel, I just wish I had contacted him and spent more time with him."
Speaking to the BBC, Mr Cameron said he felt "desperately sorry" for Mr Rathband's family.
"I met David, he was an extraordinarily brave man and after his horrific injuries, he did an enormous amount for charities and for other injured police officers and for families who had lost police officers in the line of duty," he said.
"He was a very, very brave man and I'm extremely sad about what's happened.
"Of course we have to do everything we can as a country to make sure that those who are wounded or fall in the line of duty, that their families are properly looked after, and they're properly commemorated. And we must make sure that's the case in this case too."
Former Home Secretary David Blunkett, blind since birth and another patron of the Blue Lamp Foundation, said: "I am deeply saddened and I am worried about his wife Kath and his family.
"He was haunted by the attack on him.
"Some of our emergency services put themselves in the way of danger and some are put in the way of danger and David was the latter.
"The sheer horror of what happened to him touched many of us."
'Outstanding bravery'
Northumbria Police Chief Constable Sue Sim described how PC Rathband showed "outstanding bravery" in dealing with the situation when he was faced by Moat, in July 2010, which changed his life "forever".
"He was a dedicated officer who acted in the best traditions of the police service," she said.
In a statement, the foundation, which helps members of the emergency services injured in the line of duty, said: "David struggled to come to terms with his horrific injuries and the traumatic effect they had on him and his family and friends.
"David's legacy will live on in the form of The Blue Lamp Foundation, which bears his name."
His brother Darren, who lives in Australia, said on Twitter he was on his way to the UK to "be at my brother's side".
PC Rathband's family have asked for time to come to terms with the news.
Paul Garner, of Walton Avenue, Blyth, completed a sponsored walk with the policeman at the launch of the foundation.
The father-of-two placed a floral bouquet close to the front door of Mr Rathband's home.
He said: "David was one of the bravest men I have ever met. He was full of kindness and dignity despite what had happened to him.
"He kept on keeping on as long as he could but it all became too much to take.
"Now Raoul Moat has killed him too."
The Police Federation of England and Wales, which represents rank and file officers, said it was "extremely saddened by the tragic news".
Paul McKeever, the federation' s chairman, said: "The thoughts of police officers across the country are today with David's wife, children, family, friends and colleagues as they struggle to come to terms with this devastating loss.
"David was a remarkable man who sacrificed a great deal for his communities and his family.
"He exemplified the very best of British policing and had the respect of all those who knew or worked alongside him. This is a very sad day for the police family. David will be sorely missed but never forgotten."
Sir Hugh Orde, president of the Association of Chief Police Officers (Acpo), said PC Rathband's death was "deeply sad" for the police service.
"He was an officer who personified the values of British policing, showing the utmost bravery when faced with danger in the line of duty," he said.
"Following his ordeal, Pc Rathband's courage and passion to help others through his charitable work inspired many.
"The thoughts of the whole police family will be with his colleagues and family at this difficult time."