Keeping Alcan Northumberland open "highly unlikely"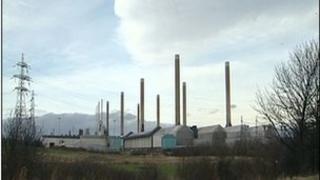 The possibility of saving more than 500 jobs at a Northumberland aluminium smelting plant is "highly unlikely", according to the area's MP.
A 90-day consultation with staff and unions over the closure of the Alcan smelter at Lynemouth ends on Wednesday.
Without a buyer for the plant 515 jobs will go.
Wansbeck Labour MP Ian Lavery said: "I think it's highly unlikely that there'll be any movement in terms of buying the business."
He added: "A number of people expressed an interest to myself personally but they haven't followed that up."
Rio Tinto Alcan, which owns the plant, announced plans to close the site in November 2011.
It has been in discussions about selling the power station at the site, where 111 people are employed.
Rio Tinto Alcan chief executive Jacynth Cote said it was "hopeful that the power station can remain in operation under new ownership".
The Lynemouth smelter opened in 1972. The plant is estimated to contribute £60m to Northumberland's economy.