No plans to remove City of Adelaide protester Peter Maddison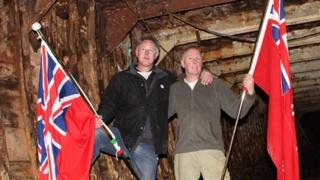 The owners of a 148-year-old clipper ship have "no plans" to forcibly remove a Sunderland man who occupied it over plans to move it to Australia.
Peter Maddison, from Sunderland, boarded the City of Adelaide on Sunday, claiming the vessel should return to Wearside where it was built.
A group from Adelaide, Australia, won a bid to turn the ship into a heritage and tourist attraction in 2010.
Owner, the Scottish Maritime Museum in Ayrshire, has played down the protest.
The vessel, built in Sunderland in 1864, has lain on a slipway in Irvine for more than a decade but is due to be moved to Australia on a £1m steel cradle which has been shipped to the UK.
'Done this before'
Mr Maddison, who is a former Sunderland councillor and chairman of the Sunderland City of Adelaide Recovery Fund (Scarf), said he and a documentary crew had enough provisions for a "sustained occupation".
He held a similar protest in 2009, when the City of Adelaide, the world's oldest surviving clipper ship, was threatened with demolition.
Jim Tildesley, project director with the Scottish Maritime Museum, said: "This man has done this before. It will not hinder our plans or change our minds about the ship's future.
"We have no plans to forcibly remove Mr Maddison. In fact we have no plans to talk to him at all."
Director of the City of Adelaide project in Australia, Peter Christopher, added: "The Adelaide based campaign has raised the funds, and has proven it has the technical expertise to save the ship.
"We may be volunteers but we are not amateurs, having both financial and technical capacity to ensure the long term survival of the ship.
"Others may protest but we get the job done."
Mr Maddison, who named his daughter after the Adelaide, said: "I think the very best place, and the only location where the ship can be sustainable into the long term future, is back in Sunderland where she was built.
"We need the work and we need the jobs far, far more than the Australians need another tourist attraction."
The vessel, later renamed The Carrick, is five years older than the Cutty Sark and voyaged annually from London to Adelaide with passengers and a cargo of wool.
Its sailing days ended in 1893 and has been on the slipway in Ayrshire since 1992 while a debate continued about its future.
In 2010 the Scottish government named a group from Australia as the preferred option to move and restore the ship.