City of Adelaide clipper ship occupied by campaigner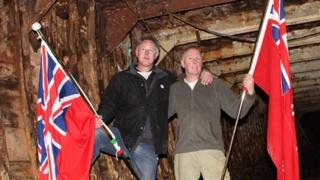 A man has occupied the world's oldest surviving clipper ship in protest at plans to move it to Australia.
Peter Maddison, a former councillor from Sunderland, held a similar protest in 2009 when the City of Adelaide was threatened with demolition.
The vessel, built in Sunderland in 1864, has lain on a Scottish slipway for more than a decade, but is due to be moved to Adelaide, Australia, soon.
Mr Maddison wants the ship returned to its home port.
The campaigner, chairman of the Sunderland City of Adelaide Recovery Fund (Scarf), together with secretary Allyn Walton and a documentary crew, boarded the vessel under cover of darkness on Sunday evening.
Isolation hospital
Speaking from the ship, Mr Maddison, who named his daughter after the Adelaide, told BBC Scotland he had enough provisions for a "sustained occupation".
He said: "I think that the very, very best place, and the only location where the ship can be sustainable into the long term future, is back in Sunderland where she was built.
"I absolutely believe that the vast majority of people in Sunderland, including the entire city council, would very much welcome the ship returning to Sunderland.
"We need the work and we need the jobs far, far more than the Australians need another tourist attraction."
The vessel, later renamed The Carrick, is five years older than the Cutty Sark and voyaged annually from London to Adelaide with passengers and a cargo of wool.
Its sailing days ended in 1893 and the ship was purchased by Southampton Corporation for use as a sanatorium and floating isolation hospital following a cholera outbreak.
The vessel has been on a slipway in Ayrshire since 1992 while a debate continued about its future.
Best climate
In 2010 the Scottish government named a group from Australia as the preferred option to move and restore the ship.
Mr Maddison, who has been involved for 12 years in the campaign to bring the ship back to Sunderland as a major heritage attraction, said Britain offered the best conditions for maintaining a vessel such as the Adelaide.
He added: "The very best climate to maintain a ship of this age and fragility is in the northern hemisphere.
"If this ship is transported, if she survives the massive journey through the southern ocean to Australia without breaking up, once she is down there she will bake under that hot dry sun.
"The wooden planks will warp, shrivel and dry out. They will break the iron frames and there will not be anything left of our beautiful Adelaide within two years of being in Australia."
No-one from Scottish Maritime Museum, which owns the vessel, was available for comment.