Washington £100,000 wetland project nears completion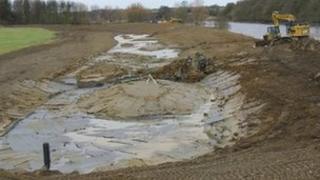 A £100,000 project to bring more wetland species to Washington Wetland Centre is approaching its final stage.
A saline lagoon has been created and visitors are invited to view it before it is flooded.
The project, funded by the SITA trust, is designed to improve the nature reserve's biodiversity by mixing both fresh water and tidal sea water.
It is hoped the lagoon will attract new birds, mammals, fish and plants when it is completed in March.
As part of the development, a breach has been made in Wildfowl and Wetlands Trust (WWT) Washington's river bank, allowing tidal water to flood in during spring high tide.
The mud from the excavation has been deposited at either end of the lagoon, creating viewing points along the habitat and down along the Wear.
Mud islands have also been built up along the middle of the lagoon to provide essential nesting habitat for wading birds.
A nature trail is to be designed alongside the lagoon so that visitors will be able to get close to the wildlife below without disturbing it.