Christopher Rochester: Family wait for DNA result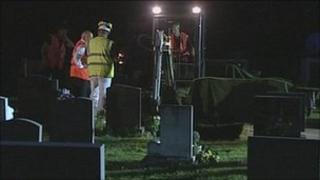 The family of a County Durham man exhumed for DNA tests say they are still waiting for the results, eight months on.
Christopher Rochester, 24, died on the Greek island of Rhodes in 2000, but his body was returned to the UK with a kidney missing.
DNA tests paid for by his family showed an organ later returned was not his.
The subsequent row ended in Greek officials requiring an exhumation for independent DNA tests in Brussels.
Mr Rochester's stepfather, George Cummings, is now demanding to be told what those tests revealed.
He said: "We are no further forward now than when Christopher's body was exhumed.
"You would think they would treat us with human decency after putting us through this, and having moved Christopher from his final resting place, and for once in 12 years they would act humanely, with compassion and respect."
Court order
The tests were conducted at a state-run laboratory in Brussels at the request of Greek officials.
The Durham North Labour MP Kevan Jones has written to the Greek Ambassador asking if the results of the Belgian tests are known.
He also asked if there had been progress in any criminal investigation into the missing kidney.
Mr Cummings added: "We want a court case so the people who were there can stand up and be held accountable for what they have done and explain in exact detail why they have done it."
No-one from the Greek Embassy in London was available for comment.