Second St James' graffiti incident at Newcastle United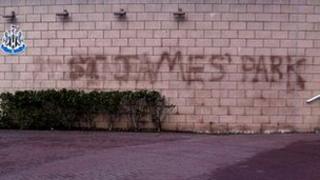 A second graffiti attack at Newcastle United's ground is being investigated by police.
The words "St James' Park" were written in black paint on an outside wall of the stadium, on Sunday evening.
Most of it was later removed by workmen but traces remained on Monday morning.
The announcement that owner Mike Ashley was changing the stadium's name to the Sports Direct Arena has sparked anger among a number of fans.
Many have said they would continue to use the old name.
At the time the club said the rebranding was a temporary measure to "showcase" the sponsorship opportunity to "interested parties", and could eventually generate up to £10m a year.
It has not commented on the latest incident.
Northumbria Police said in a statement: "At 6.30pm on Sunday 19 February police received a report of criminal damage at the Newcastle United ground.
"Between 5pm and 6.05pm someone had vandalised a wall of the stadium.
"Anyone with information is asked to contact police."