St James' Park graffiti: Michael Atkinson admits painting stadium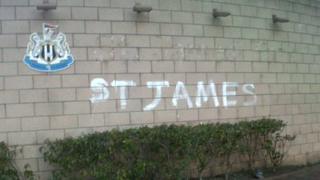 A Newcastle United fan has admitted painting the words "St James" on a wall at the club's ground.
Hours after the St James' Park sign was removed, Michael Atkinson, of Newbiggin Hall, said he had decided to go to the ground to paint the name back on.
He said he was angry that owner Mike Ashley had changed the stadium's name to the Sports Direct Arena.
Mr Atkinson, 29 has been charged with criminal damage and is due before Newcastle magistrates on 7 March.
The old sign was removed by a club worker with a crow bar on Thursday afternoon and Mr Atkinson said he had painted the words St James in white paint in the early hours of Friday.
'Blue lights flashing'
The graffiti was cleaned off on Friday morning. He said: "I was having a laugh with me mates on Facebook and decided to paint St James' on the wall.
"I had just done the St James and was just about to do the apostrophe when I saw the blue lights flashing so obviously I had to quit.
"The police were OK when they arrested me but obviously they cannot condone it.
"The ground has always been St James' Park and should always be St James'."
Many Newcastle fans say they will continue to call the ground St James' Park.
The club said the change was a temporary measure to "showcase" the sponsorship opportunity to "interested parties".
Managing director Derek Llambias has said stadium rebranding could generate up to £10m a year.
Mr Atkinson added: "I don't understand why he [Mike Ashley] has just pulled the sign off now when he changed the name in November.
"He seems to just like winding the fans up - every time we are doing well he seems to do something to wind us up."