Bailiffs being used 'too often' in Newcastle area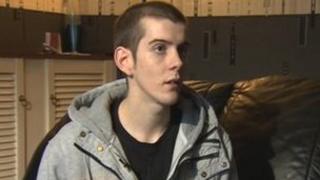 Bailiffs are being used "too quickly and often" to recover unpaid council tax, the Citizens' Advice Bureau said.
Newcastle City Council issued 25,000 court summonses and brought in bailiffs in more than 9,500 cases in the past financial year.
In the same period, similarly sized Sunderland City Council issued less than 10,000 court summonses and used bailiffs in just over 1,400 cases.
The figures were obtained using the Freedom of Information Act.
Alistair Chisholm, from Newcastle Citizens' Advice Bureau, said: "Newcastle's very quick to resort to bailiffs, and quite often it makes the situation worse.
"It doesn't help anybody if they take the rent money.
"And when people are in financial distress, they need proper help to sort their problems out and pay their council tax in an affordable and sustainable way."
Councillor Joyce McCarty, Labour's deputy leader of Newcastle City Council, said: "The council uses bailiffs only as a last resort.
"And what the council has moved to now is putting in much more proactive support at an early stage so that if people aren't able to pay because they're in financial difficulties the council wants to offer them as much help and support to pay their council tax as possible."
Jonathan Collings, 23, owes the authority unpaid council tax. Bailiffs are now seeking to recover the debt.
Mr Collings said: "[The bailiffs are] banging on my door constantly, saying final demand and stuff. Saying I need to make payments or they'll take it further and constantly saying they're going to come to my property and seize my goods.
"They don't knock on your door lightly, they bash on your door - proper hard. They keep on bashing until they get an answer really."
Last year, in a report on the use of bailiffs by the council, Newcastle Citizens' Advice Bureau said one person they dealt with had been told by bailiffs that they would "take the wallpaper off your walls".
Since then, Newcastle council claimed it had changed its approach to people who found themselves unable to pay council tax.,
It said it offered more help and support but that those who refused to pay must be dealt with.
Cllr McCarty said: "The council is trying to differentiate between those who are unable to pay because they've got themselves into a debt crisis and those who refuse to pay.
"And clearly the council does need to get as much money from those who refuse to pay, those who won't pay, as it can.
"They have a responsibility to contribute towards the services that the city provides."
The government has met to discuss new proposals for the regulation of bailiffs and will consult on the plans.
They include a code of conduct, banning the use of force, making clear when bailiffs can enter properties and stating what items are not allowed to be taken from homes.
The Civil Enforcement Agency represents the bailiff industry and already has a code of conduct in place.
It states: "Enforcement agencies must ensure that enforcement is conducted in accordance with prevailing legislation and in a professional, ethical and proportionate manner.
"The objective should be the recovery of the sum outstanding as quickly as possible, without causing unnecessary hardship."