St James graffiti at Newcastle United ground: man charged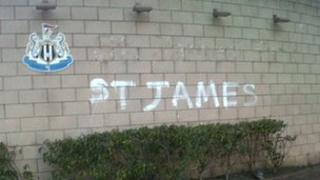 A man has been charged after graffiti was daubed at Newcastle United's ground hours after the St James' Park signs were removed.
On Thursday the letters were removed after November's announcement of the name change to the Sports Direct Arena.
The words "St James" were written in white paint at the ground before being removed on Friday morning.
Michael Atkinson, 29, of Hareydene, Newbiggin Hall, Newcastle, was charged with criminal damage.
He is due to appear before Newcastle Magistrates' Court on 7 March.
The graffiti was written on one of the walls at the ground below where one of the St James' Park signs had been.
Workmen later arrived to remove it.
Many Newcastle fans have said they will continue to call the ground St James' Park.
The club says the change is a temporary measure to "showcase" the sponsorship opportunity to "interested parties".
The club's managing director Derek Llambias has said stadium rebranding could generate up to £10m a year.