Cullercoats RNLI volunteer honoured for saving boy's life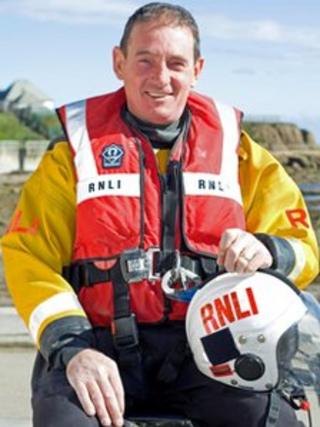 A North Tyneside RNLI volunteer is being awarded one of the charity's highest honours after saving a 12-year-old boy's life.
Helmsman Robert Oliver rescued the boy when he was washed out to sea by a large wave on 26 October.
Helped by crew members Grahame Wood and Stephen Potts, the three men put themselves and their vessel at "considerable risk" to save the boy, who had been playing on the promenade at Cullercoats with his brother.
The 46-year-old will now receive a certificate of the Thanks of the Institution inscribed on Vellum, an award given for notable acts.
The rescue was considered a risk as the lifeboat had to launch without the fourth member of the crew due to the urgency of the situation.
The boy was also close to rocks and the promenade and was being washed up and down in the heavy seas.
Mr Oliver had one opportunity to manoeuvre the lifeboat alongside the casualty so that his two crew could pull the boy onboard, according to his citation.
Shaking legs
RNLI North deputy divisional inspector, Sarah Nimmo-Scott, said: "The selfless actions of the crew undoubtedly saved the boy's life.
"Helmsman Oliver's ability and the confidence he inspires in his crew are outstanding and testament to his knowledge and skill as a helmsman.
"The crew only had one chance to get it right - any other course of action could have led to a much less positive outcome."
The boy, who was barely conscious and limp when he was rescued, was airlifted to hospital by an RAF rescue helicopter and made a full recovery.
The lifeboat crew said he had spent about 60% of the time under water.
He has since returned to the lifeboat station with his family to thank the crew.
Mr Wood and Mr Potts will receive a joint Letter of Thanks signed by the RNLI's chairman.
Ms Nimmo Scott added: "Helmsman Oliver informed me that his legs were shaking after the service which, coming from this man, means that it was extremely dangerous and something out of the ordinary."
Mr Oliver became a lifeboat crew member at the age of 17, following on from six generations of family lifeboat members.
He took over as leading helmsman in 1996.
He said: "I feel no different now when the pager goes off to when I was 17 and the maroon went off.
"First of all you want to get down here [to the lifeboat station] as fast as you can. The adrenalin is going because you don't know what the job is. You do everything as fast as you can.
"There is still the buzz of going out with the boat."