Stan Collymore Twitter race abuse accused denies charge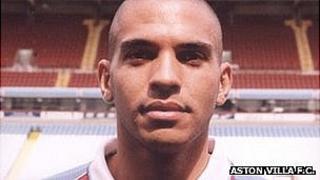 A 21-year-old law student has denied racially abusing former Liverpool, Aston Villa and Nottingham Forest footballer Stan Collymore on Twitter.
Joshua Cryer, of Jesmond, appeared before Newcastle magistrates to face a public order charge after a complaint from the radio pundit.
Mr Cryer, a Newcastle University student, denied sending messages in January that were "grossly offensive".
Magistrates adjourned the case for a further hearing on 2 April.
Mr Cryer, originally from Burnley, was arrested last month after the 40-year-old former England striker reported the incident to Staffordshire Police, who in turn passed the matter on to Northumbria officers.
Mr Collymore, originally from Cannock, Staffordshire, played for a string of top clubs and now works as a broadcaster for Talksport.
He campaigns against racism and is a supporter of the charity Depression Alliance.