Sunderland city status: Did it work?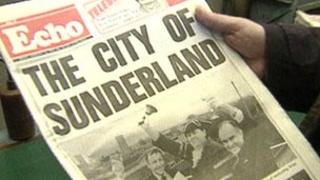 To mark her 60 years on the throne, the Queen will confer city status upon a town.
So Bolton and Bournemouth and Colchester and Coleraine and Middlesbrough and Milton Keynes and all the other contenders are scrapping it out for the title.
Every one of them is desperate to become the UK's newest city. Every one of them thinks it will lead to happier times.
The Queen has done it before - and in 1992, after 40 years on the throne, it was Sunderland which got the regal nod.
Business leaders, councillors, MPs - the whole of Wearside - agreed that their new prestige would mean greater prosperity.
But did that happen? In fact, nobody knows. The uncomfortable truth is that nobody has tried to find out.
At Sunderland University, Professor Bernie Callaghan, the dean of the Faculty of Business and Law, said: "The city has changed immeasurably over the last 20 years, but can you put that down to city status? Or is it the general economy? You don't really know because nobody's actually done the research.
"There was a lot of euphoria that year. We had city status, our polytechnic became a university, Sunderland even got to the final of the FA Cup that year. Perhaps it was a case of, 'hmmmm, what next?'
"But I do think city status gives a lot of civic pride to the people of Sunderland and we've had a hard time over the last 20 years."
That cannot be disputed. Sunderland was still trying to recover from the closure of the last of its shipyards when, in 1993, came the closure of the last of its collieries. Where once stood the winding gear for Wearmouth Colliery, now stands the Stadium of Light, home to Sunderland Football Club.
'Long-held suspicion'
In 1999 came the announcement that another major employer, Vaux Brewery, was to close. The brewery was profitable, but its parent company, the Swallow Group, decided it wanted to concentrate on its hotel business. Especially hard to stomach was a decision to turn down a proposed management buy-out. Instead, the brewery was simply demolished.
Wearsiders were furious, feeling a brewery that had stood for nearly 170 years had been sacrificed to satisfy the financiers of London. It all helped reinforce a long-held suspicion of some Wearsiders that the movers and shakers in London, including central government, could not care less about them.
"I'll probably pass on that one in terms of political comment," added Professor Callaghan.
"But we are where we are and I think that comes down to the people of Sunderland saying, 'come on, let's get on with it, let's pull our socks up and change our city'."
That there has been a remarkable transformation is also indisputable. Foreign companies seem to have been queuing up to invest in Sunderland.
More than 60 major businesses are from countries outside the UK and together they employ more than 17,500 people. France, Germany, Switzerland, the US, China, even Luxembourg. And, of course, Japan. Nissan arrived when Sunderland was still a town, however.
Frank Nicholson was managing director of Vaux Brewery and is a man who lives and breathes Sunderland. He refers to the car plant, in all sincerity, as "the great Nissan".
He said: "City status is a matter of civic pride and civic prosperity. Nissan is commercial pride and commercial prosperity.
"It's the latter that matters more."